From Capturing to Sharing the Your Experiences in 360 Degrees:
The Complete Guide to 360 Video Editing
You're an adventure seeker jumping out of planes, diving the great barrier reef, or a fun loving videographer capturing family memories through the powers of 360 degree video. Now once you've captured your footage, you're wondering how to take your video the to next level, add music, trim scenes, to make your video look it's best.
How can you do this? By choosing a video editing software with the right tools and features for 360 video editing.
We can now record the world in 360 degrees, but using a 360 camera can be much more than just a capturing the footage. Here are some tips to help you get started to make your project look it's best.
More and more, savvy video editors are investing in 360 cameras with the aim of capturing impressive footage. Creating that perfect 360 video begins with getting that great footage with your camera, but ends with the right video editing software to bring everything together.
Turn your 360 footage from your camera, into 360 video to be proud of! Correct color, add transitions and trim video and more! To get started - let's check out this great 360 video of one of the 7 wonders of the world - the Grand Canyon. Move around freely and enjoy your surroundings - experience what the video maker is seeing in the moment - that's the beauty of 360 - it's like you're there in the moment with them!
Learn more about Pinnacle Studio Ultimate
Choosing the right equipment to mount your 360 camera
With 360 video you do not have to worry about not capturing the right angle - because it captures almost every angle. You do have to remember that everything around your camera will be in the video, the detail of every room, the camera operator, any equipment or cords. If you are holding it by hand - be prepared that your face will always be in the footage.
Your 360 camera may have come with different types of mounts - if the right one is not there, checkout Amazon to see what 360 camera accessories are available.
Looking to create real estate video to showcase a house? This real estate agent has set up the camera on a tripod in the middle of each room to allow the user to explore the house, room by room. They have then trimmed and edited the video together to allow the user to spend 30 seconds in each room to explore and move around freely. The benefit of 360 video is that the potential house buyer can explore freely and move around the environment as they wish.
Learn more about Pinnacle Studio Ultimate
360 Video Formats
There are two types of 360 videos - Monoscopic and Stereoscopic.
Monoscopic is the most common type of 360 video and also is what is commonly supported by 360 video players (such as YouTube and Facebook). These are flat renderings 360 degree renderings of a shot where you can move around the video, but you have no real depth perception (ex. Google street view).
Stereoscopic video is for creating immersive virtual reality environments, introducing 3D objects and depth into the video (ex. objects flying around you or reaching out to touch the object approaching you). Stereoscopic video can be viewed using a VR headset. This format is only used by the pros - is not typical for 360 videos hobbyists ($$$).
Exporting your raw footage from your 360 degree camera
When you export your video from your camera, if you are using a 360 video device chances are it is already in one of the popular 360 monoscopic formats: equirectangular, spherical fisheye or dual fisheye. When you play it back on your computer's default video player (example Windows Media Player), your footage does not look right because this is not a 360 video player. Below is likely one of the views you are seeing when you open it in a standard video player: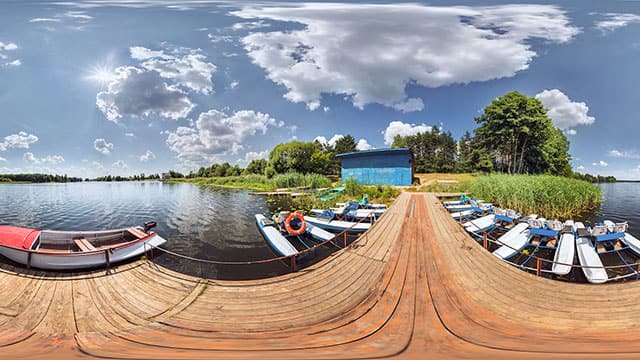 Equirectangular
Just like a world map - this format flattens the spherical experience into a rectangular format - the above picture if of a straight dock but format flattens it out so you can see both in front and behind you. This is the native format that 360 video is edited in.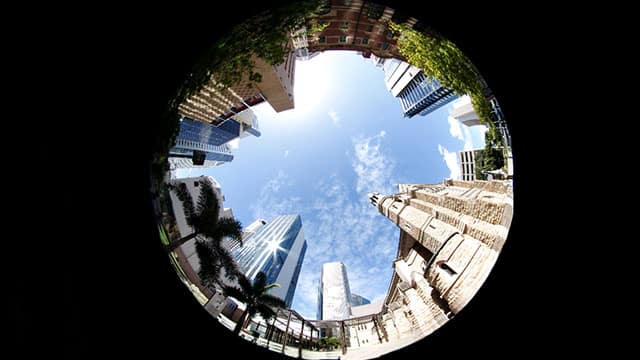 Fisheye
This format has your camera in the centre of the image and projects it's views around it, showing a single spherical view, taking objects out of proportion. Although it projects a cool image, this format gets converted for playback and editing.
If your camera exports a spherical fisheye or dual fisheye footage, some editing softwares require you to convert your footage into equirectangular format before you can edit them. Others, like Pinnacle Studio will work with these and convert them into equirectangular format for editing. If you have a device that captures your footage by stitching multiple cameras together (ex. a device that holds 6 GoPros to capture all 360 degrees), you will still be required to use stitching software to create a 360 file, video editing and stitching software are two very different things.
Learn more about Pinnacle Studio Ultimate
Editing your 360 footage
Video editing software like Pinnacle Studio Ultimate make it easy to edit your 360 videos in an editing environment you may already be familiar with. Your camera does the work to capture the footage from every possible angle, but in a video editing software, you can refine your footage to tell the story you want to show. Add your footage to the timeline and edit! There are a few additional controls specific for 360 editing but if you are just looking to trim or enhance color, the timeline is all you need!
Trim down your hours or video into the highlights to share. See what this videographer does to takes you through their vacation by highlighting various moments for you to experience in 360. How? Combining multiple videos together with transitions and titles, trimming down their footage to show the highlights and let the user experience a taste of each scene.
This is the Ultimate 360 video experience to showcase the highlights of your vacation -

& can you can do all of this in a software like Pinnacle Studio!
Trim, merge and add titles
Video editors like Pinnacle Studio Ultimate offer 360 video editing that allow you to take your 360 footage to the next level. Simply add your 360 video to the timeline and trim or enhance the colors in your video as you would to a standard video. By right clicking on your footage in Pinnacle Studio you can access additional 360 controls, like adding 360 responsive titles, or converting fisheye to equirectangular formats.
Edit your video as you want to shows your audience the scenery, action or views that way you saw them as you recorded them. Merge video, trim video, or split videos to tell your story your way. Take your editing even further with the ability to add 360 responsive titles so you can label what your viewer is seeing, guiding them through the action.
Considering Pinnacle Studio to edit your 360 video? Here's is a quick tutorial on editing your 360 video in Pinnacle Studio, setting up your project for a 360 video, adding titles and more:
You can crop or trim your 360 video on the timeline as you would any standard video. Even add a music track. If adding a title, the above tutorial tells you how to insert your title as a 360 object.
Setting the tone with top quality audio
A great video isn't just about images. Without clear audio you lose much of the emotional impact. Music can make a big difference in immersing your audience into your experience. Often time camera pick up white noise such as wind, which can take away from the playback experience. Why not add a soundtrack to your video to set the mood you want share. Be sure to pick a soundtrack to compliment the action on screen.
If audio is an important factor of your video, you may want to consider using an external microphone - although built-in microphones do an okay job, it is hard to separate audio from white noise in an action video.
Be the director of your story - converting 360 video to standard video
So you're asking yourself 'why would you want to convert my 360 video to standard video.' There are always instances where you want the viewers to look to the left and not miss the important parts or where a 360 video is feasible, or not how to best showcase your video. As a standard video, you are able to be the director and take your viewer along the visual journey you wanted them to see.
Editor's like Pinnacle Studio allow you to take your 360 video and convert it to regular standard video. With this, you have full control to take your audience through the experience you want to show them. By using your cursor you are able to set the path through your video with panning and field of view controls. With this capability it is easy to guide your audience through your video, sharing the visual journey as you want it to be seen, without the hassle of requiring multiple cameras to capture all of the angles & then edit them together. The video above, shares with you the steps required to convert your video to standard video.
Learn more about Pinnacle Studio Ultimate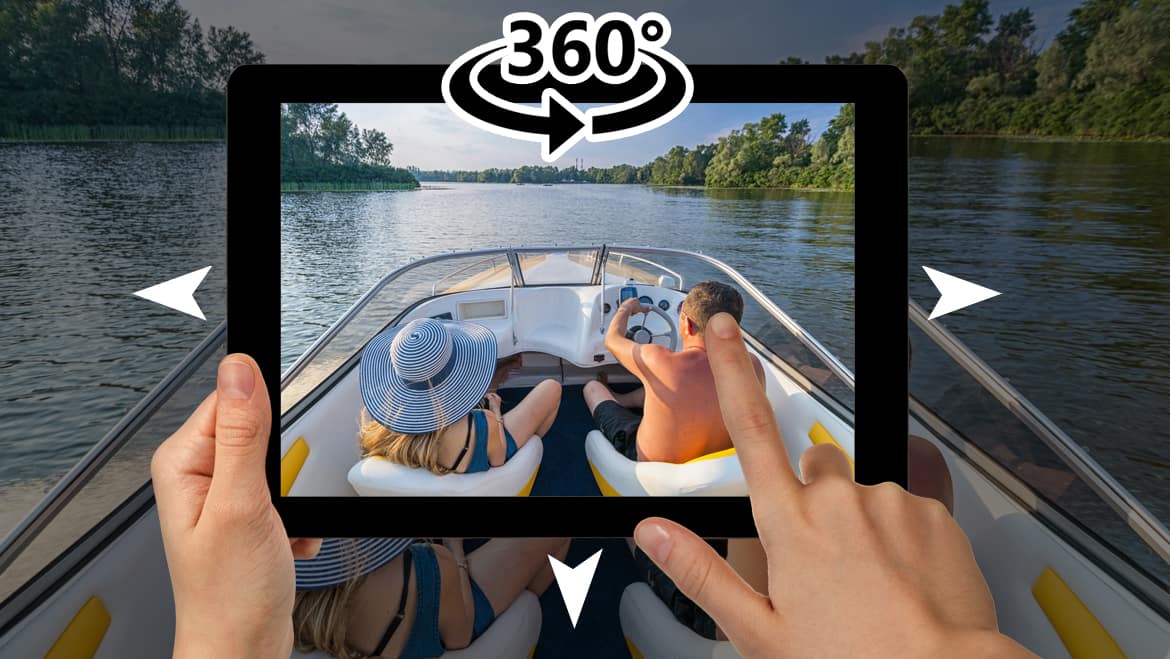 Sharing your 360 video
As 360 video grows in popularity we see platforms jumping on board to support this immersive experience. Facebook, Vimeo and YouTube all support 360 video playback, users can play the video and move around the scene. IF they are on a mobile device the user can move phone to look around, or if on a computer, they can use their mouse or arrows to navigate.
Creating a virtual reality (VR Video)
Once your video is exported to a mobile device, to have your audience jump into the full experience, consider picking up a VR headset. Quality of the headset can range anywhere from purchasing a cardboard VR viewer for a few dollars to investing in a higher end model. You may want to even consider going the extra mile and picking up a headset that that includes an audio plugin to create that surreal virtual reality environment and take your viewer into the scene.

Playback video quality is often a concern with these players. Be sure to click on the player's settings and max out the resolution (to 4K or HD) to ensure the best playback experience.

Why Pinnacle Studio for 360 video editing?
There an increasing number of 360 video editing options coming to market, Pinnacle continues to a leader in consumer 360 video editing with powerful and precise editing options. Not only for 360 video editing, but Pinnacle Studio is a great choice video editors who want to enjoy the perks as a professional editor at a consumer editor price!
With 2,000+ effects including effects from industry leader NewBlue combined with pro-caliber tools including audio ducking, multi-camera editing, motion tracking and more, unlimited creativity is at your fingertips. Pinnacle Studio provides you with the power, creativity and control you need to edit like a professional, with the flexibility to customize your workspace and edit your way. To Learn more about Pinnacle Studio, www.pinnaclesys.com.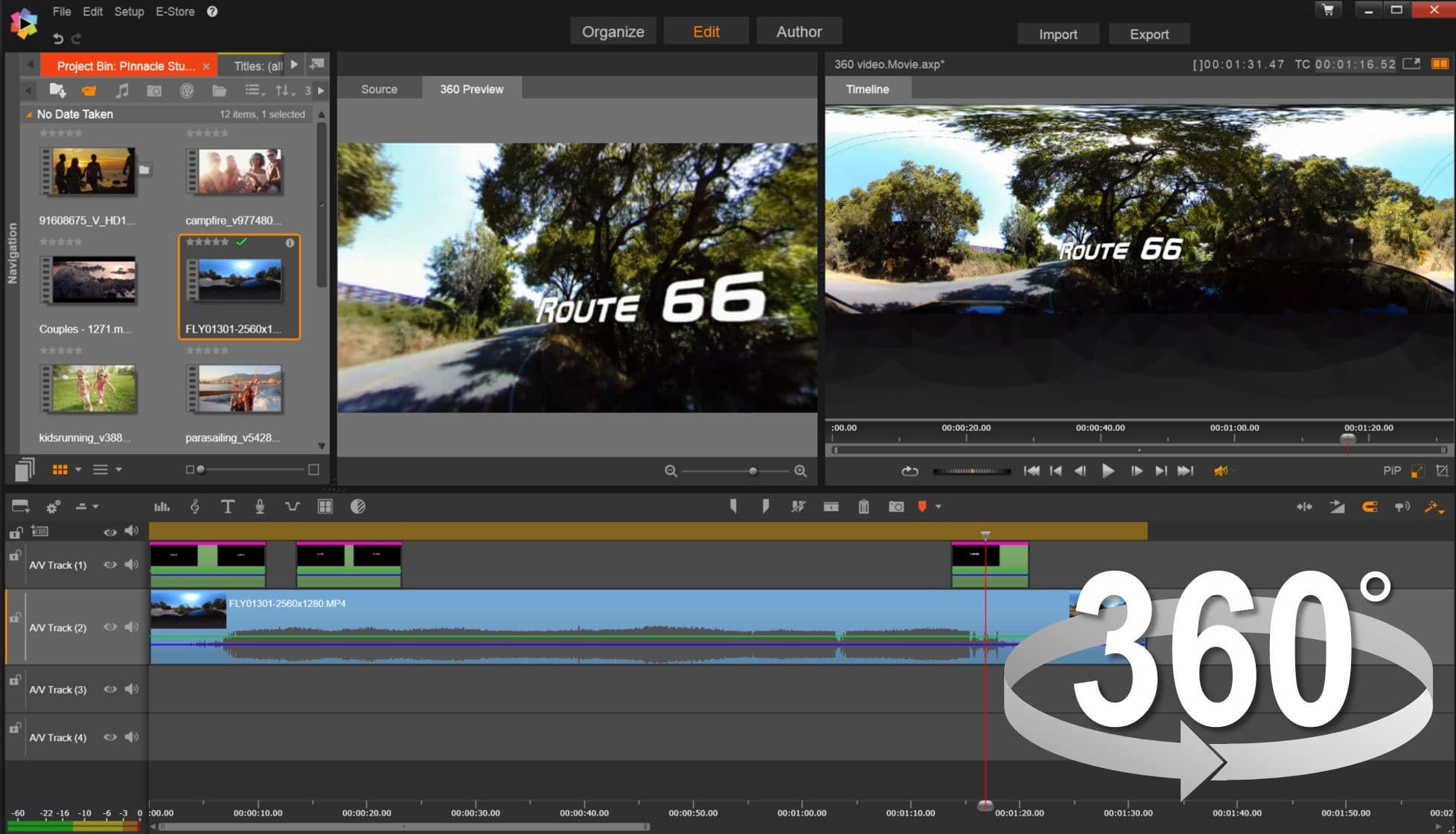 Learn more about Pinnacle Studio Ultimate