A webcam and screen recorder? This tool is incredibly powerful and extremely fun to play with.
Create engaging videos, and record your screen and webcam simultaneously with the powers of MultiCam Capture. Easily create how-to videos, unboxing videos, record product demos, and more with one easy-to-use recording software. Plug in your cameras, preview the screens of your connected devices in one place, and press record. When done, your clips are already synced, so it's easy edit your video and select which angle to show as your video plays with Pinnacle Studio.
MultiCam Capture 2.0 Lite comes with
Pinnacle Studio
: your powerful, precise video editor.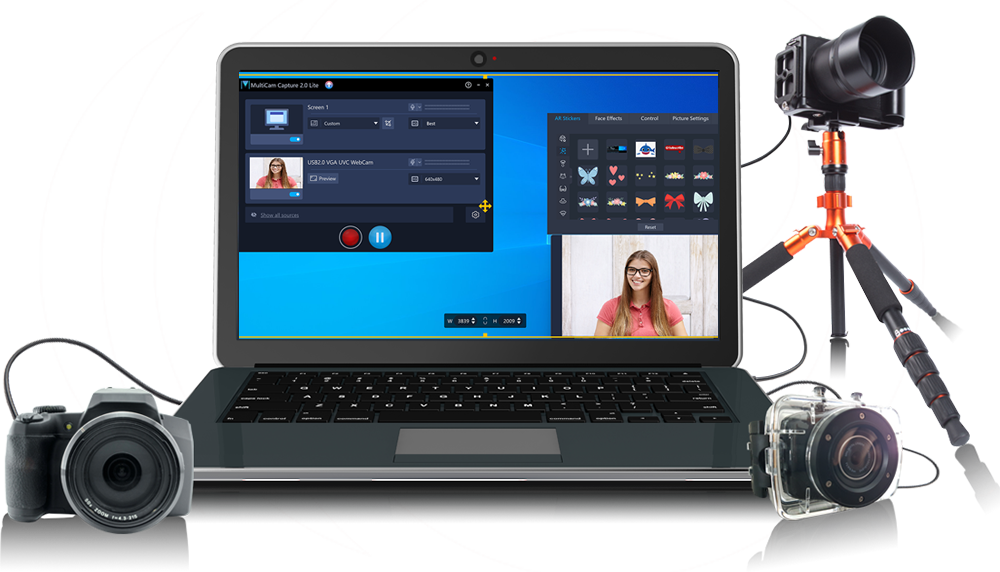 Connect
Plug in your cameras to capture video, audio, and record your screen.

Capture
Record video and capture synced video & audio from multiple cameras.

Edit
Create engaging multi-camera videos with easy to use tools.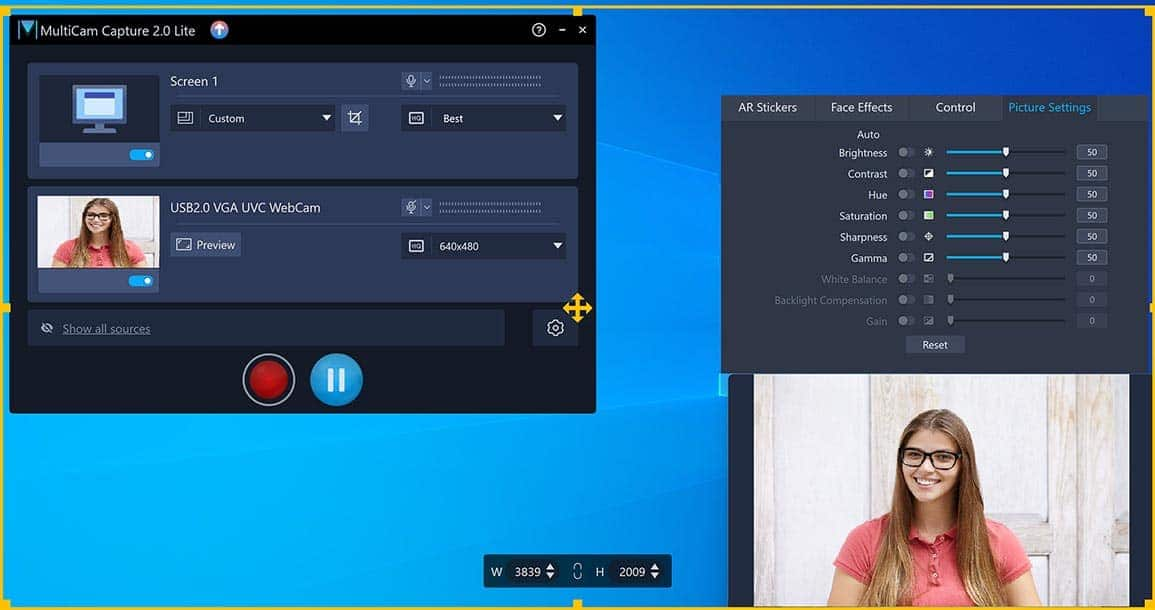 Capture video efficiently
Webcam and screen recorder

Connect your cameras and turn your PC into a capture hub. Record your screen and webcam simultaneously. Capture video, system audio, microphone sound, and record your screen in a single click.

Adjust color and brightness

Preview all of your connected devices in one place. Select individual cameras and adjust your camera's image to match the color and brightness across all cameras before you record. Also correct imperfections or add more natural lighting before you record, to make post-editing easier.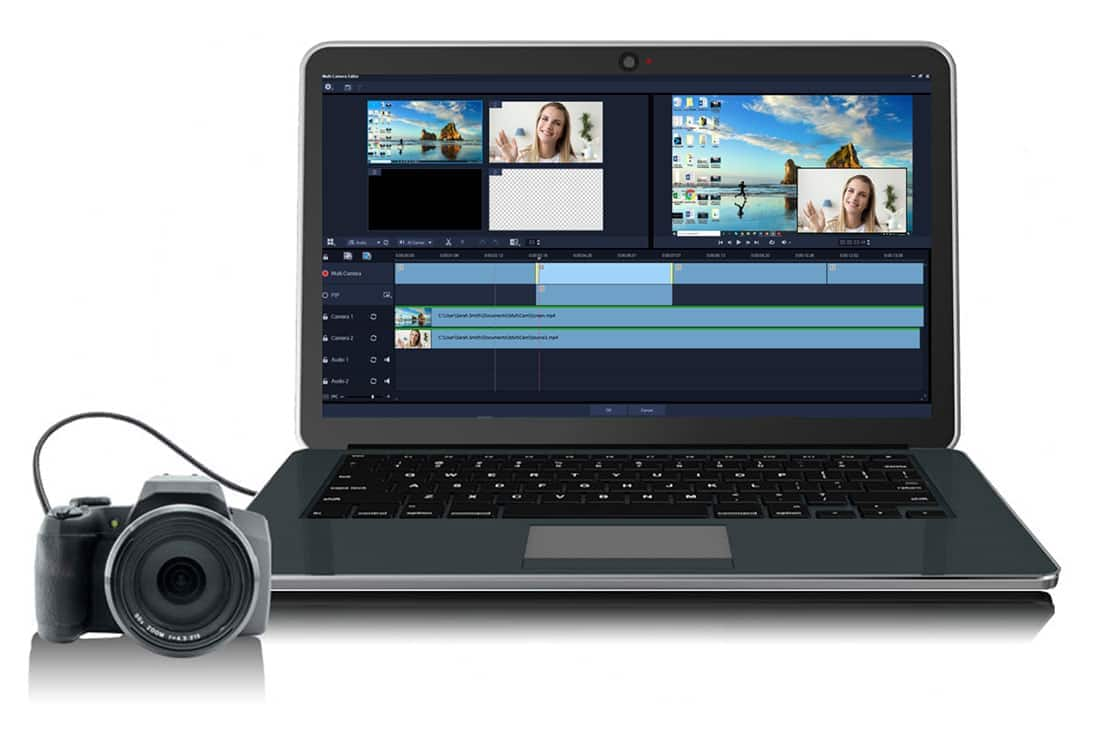 Edit with ease
Edit efficiently with synced videos

Ever work with multiple cameras on the same scene and have to edit them together, manually? With MultiCam Capture your videos are already in sync. Each device exports as a single video file. Just import your clips into a video editing software program, like Pinnacle Studio, and start editing.

Multi-camera editing

With Pinnacle Studio's Multi-camera editing feature, you can add and easily combine footage from up to six devices*. Import your videos and select the angle you want to show as the video plays, to create your perfect multi-camera production with ease.

Play video
*Six device MultiCam Editing is exclusive to Pinnacle Studio Ultimate.
Get to know the MulitiCam Capture 2.0 workspace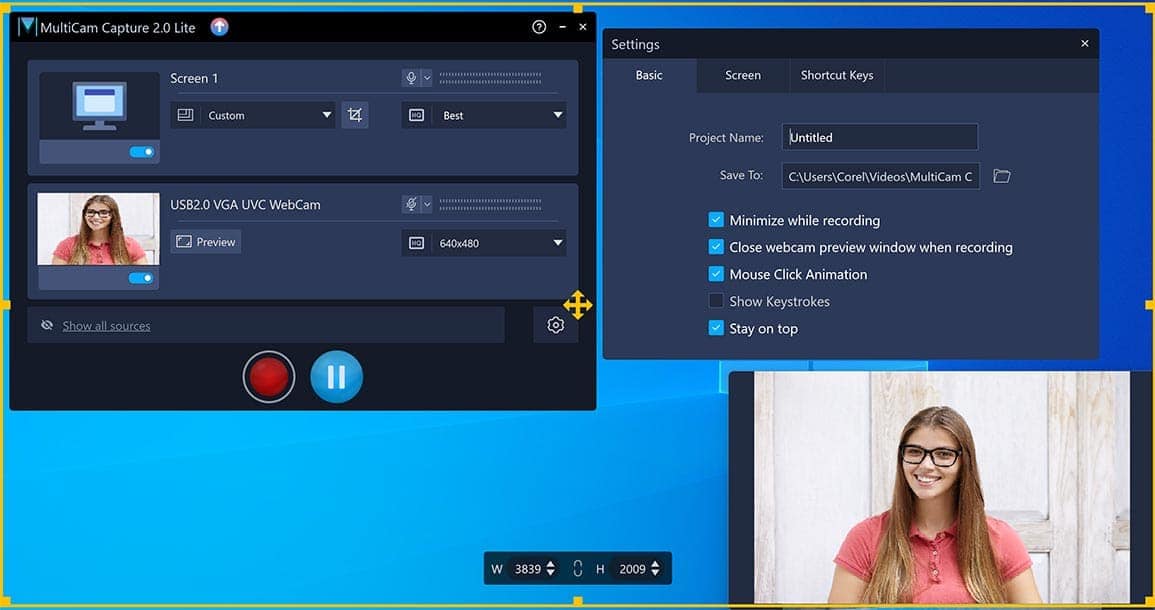 The recording window

The recording window provides start, stop, pause, and resume recording controls. The Settings page access to basic settings such as Project Name, Save To location, and other options.

The source view window

The source view window displays a live view of your active camera sources. This is especially helpful if there is quite a bit of movement, such as a demo in front of a webcam, and you want to ensure that the camera is capturing the action. Clicking a toggle switch on makes it active and clicking Preview button to enlarge it. More settings are hidden in the left-hand corner settings button (…).
This Webcam and Screen Recorder brings you the tools you need to make video capture and editing easier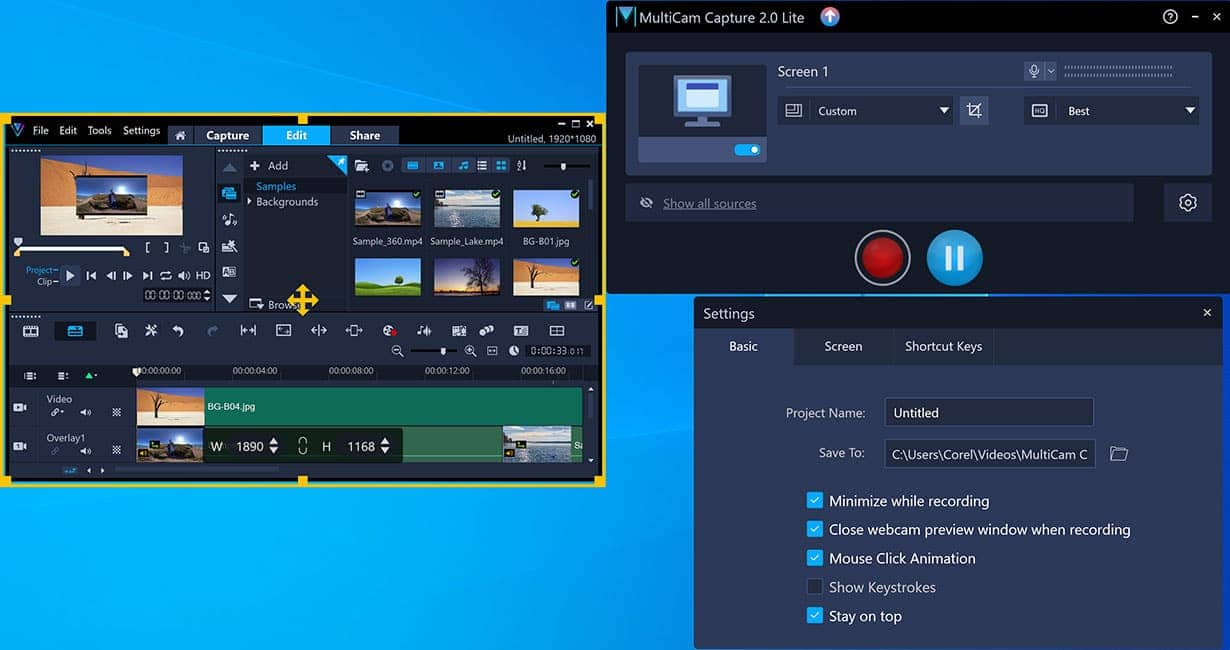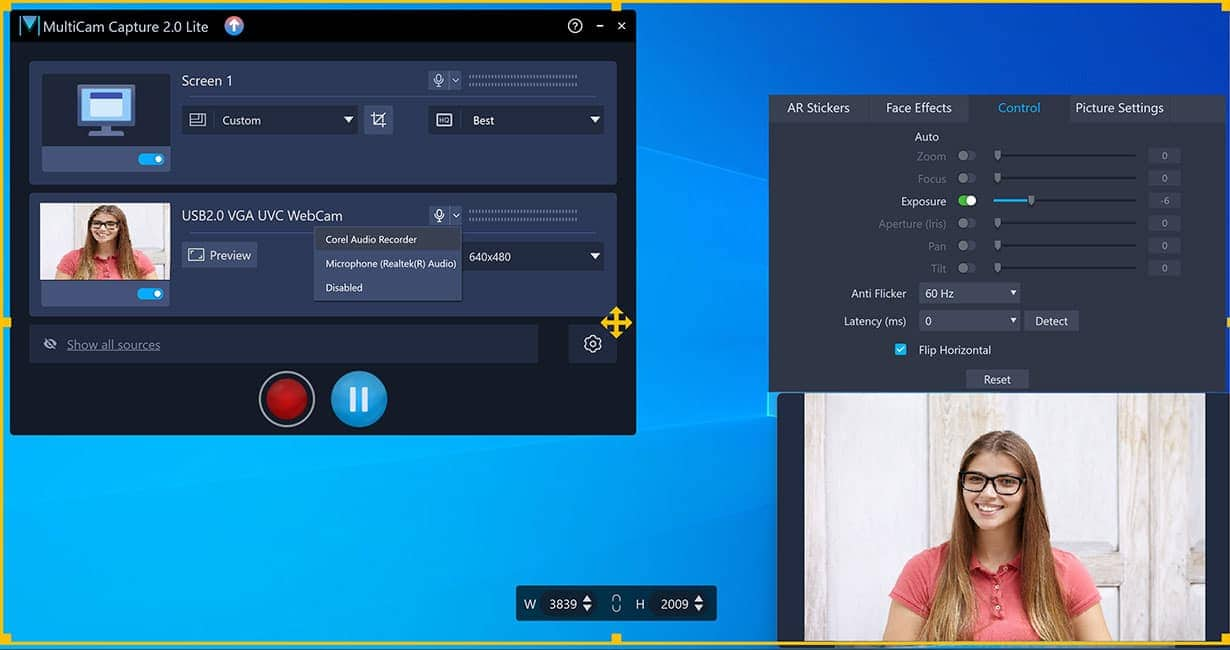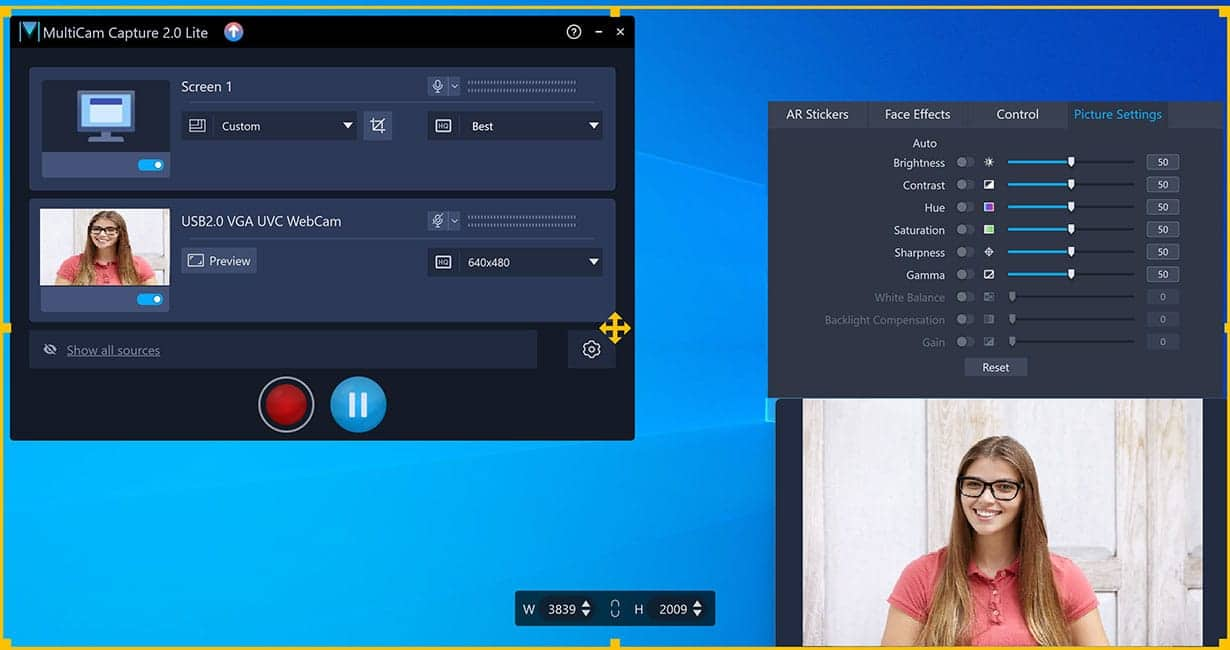 Once you define the optimal resolution for your computer, quickly begin naming your files and folders and select the areas that you would like to capture (either freehand or by choosing select windows). Easily control your frame rate on recordings, and more!
Easily identify which video source to use as your primary audio track. Correct imperfections in your footage before you record—from bad lighting to syncing issues between your audio and video devices with latency controls.
Quickly adjust the brightness, contrast, saturation and more, of every picture. Employ techniques like backlight to help beef up exposure in areas that are too dark—without affecting areas that are just fine. Use features like zoom, pan and tilt to adjust the focus of your camera and give a unique perspective to your project.
What can you create with MultiCam Capture?
What comes included with Pinnacle Studio?
Included
MultiCam Capture 2.0 Lite
Webcam and screen recorder - MultiCam Capture Lite has a two-stream capture maximum.
2-stream capture
Webcam video capture
Screen recorder
Additional camera angle support
Upgrade
MultiCam Capture 2.0
Capture video and record your screen - upgrade to unlock additional camera support and capture multiple angles.
Unlimited-stream capture*
Webcam video capture
Screen recorder
Record 2-up areas in one monitor
* Recording more streams require more computer power
Record and edit multiple video streams across myriad devices—with both precision and power. Your creativity knows no bounds with Pinnacle Studio.