Trim A Video
How To Trim A Video
Are you dealing with a video that includes some preamble and extra time at the end that you don't want? Maybe you can hear the camera crew talking at the beginning and the end and you want to cut around it to just leave the juicy part. You can easily trim a video in Pinnacle Studio to the desired length, removing any unwanted excess. Learn how to trim a video in the guide below.
1. Install Pinnacle Studio
To install Pinnacle Studio video editing software on your PC, download and run the installation file above. Continue following on-screen instructions to complete the setup process.
2. Select a Clip
Select your clip on the timeline and drag your scrubber along the clip to the point in the video you wish to trim.
3. Split Clip
After you have the scrubber at the point that you want to trim; from the timeline toolbar select the Split Clips tool or press N on your keyboard. The clip should now be trimmer to the length you want it. Now you can rearrange the clips or delete unwanted sections. Or, by selecting your clip on the timeline, move your cursor to the edge of the clip and drag inwards to where you wish to the part you wish to trim your video to.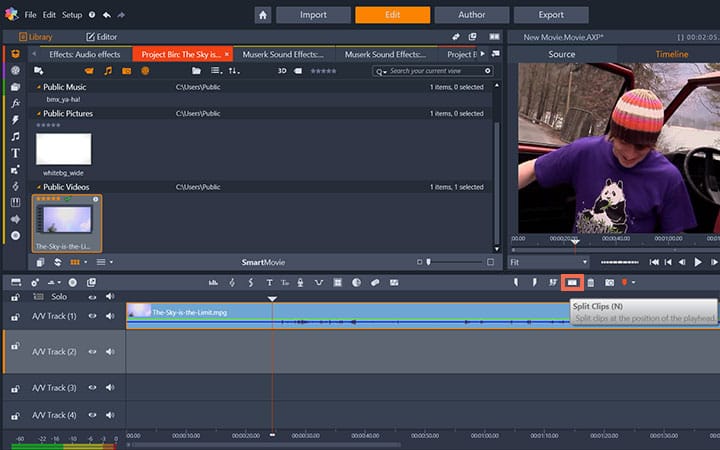 Pinnacle Studio does more than just trim videos
Check out some of the other video editing features available in Pinnacle Studio, like How To Merge Videos, How To Cut A Video, How To Edit A Video, and more! It is now easier than ever to create high quality movies and videos. Take your videos to the next level with Pinnacle Studio
Get the best software for trimming video that there is
Need to trim a video? Pinnacle Studios powerful video editing features allow you to easily trim videos to remove unwanted sections or add a new scenes. Click below to download your free 30-day trial and give Pinnacle Studio a try now!