Create DVD Menus And Chapters
How To Create DVD Menus And Chapters
Burning a DVD is one thing. But Pinnacle Studio is much more than a straightforward copying service. Create professional DVD menus and chapters to bring your DVDs to life, whether you need them for a business presentation, a short film for the festival circuit, or just want to make your home films that little bit more stylish. Read on to find out how to create DVD menus and chapters in Pinnacle Studio.
The essential feature that makes disc authoring possible is the menu. A particular disc may have one, a few or many menus, each consisting of a still image or a short video loop. Areas within the menus, called buttons, can be selected by the viewer to activate other content on the disc.
1. Install Pinnacle Studio
To install Pinnacle Studio video editing software on your PC, download and run the installation file above. Continue following on-screen instructions to complete the setup process.
2. Add Menus
First, switch to Author tab. To add a disc menu to your production, in the Library, choose the Disc Menus category, and drag a menu to the Menu List. To edit the actions assigned to the menu's buttons, you can use the authoring tools provided on the timeline in conjunction with the Player, or get some automated help from the Chapter Wizard. To modify the appearance of a menu (or create one from scratch) you will use the Menu Editor.
Note: Before you perform this step you have to Enable Legacy Authoring Mode from Setup > Control Panel > Legacy Options.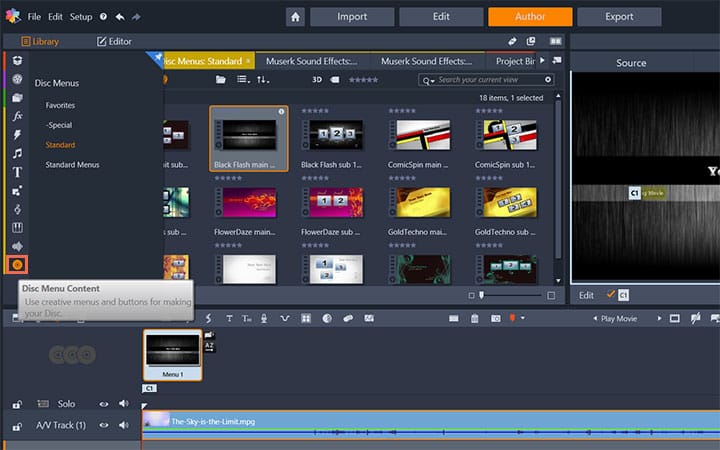 3. Add Chapters
To insert new linked chapters, use either the Insert Link button on the toolbar, or the Chapter Wizard.
Pinnacle Studio does more than just create DVD menus and chapters
Check out some of the other video editing features available in Pinnacle Studio, like How To Burn A DVD, How To Reduce Video File Size, How To Convert Video Files, and more! It is now easier than ever to create high quality movies and videos. Take your videos to the next level with Pinnacle Studio
Get the best software for creating DVD menus and chapters that there is
Need to create DVD menus and chapters? Pinnacle Studios powerful video editing features allow you to easily create DVD chapters and menus for better navigation of your movies. Click below to download your free 30-day trial and give Pinnacle Studio a try now!