Add Voiceover To Video
How To Add Voiceover To Video
In video production, story is everything. Narratives can be driven by images alone, by presenters, by conversations in interviews, and often by voiceovers. After the script has been written and recorded, add voiceover to your video for the final touches. Pinnacle Studio makes the process as streamlined as possible. Read on to learn how to do it.
Recording a voice-over in Studio is as easy as making a telephone call. Just open the Voice-over tool, click Record and speak into a microphone attached to your computer.
You can narrate as you watch the movie play so that your words match the action on the screen. You can also use the tool as a quick way of capturing ambient music or home-made sound effects via your microphone.
1. Install Pinnacle Studio
To install Pinnacle Studio video editing software on your PC, download and run the installation file above. Continue following on-screen instructions to complete the setup process.
2. Choose a Starting Point
Drag a video on the Timeline from the Library. Select your starting point on the timeline of your project. You can do this by selecting a clip, playing the movie and stopping it at the desired point, or by dragging the timeline scrubber.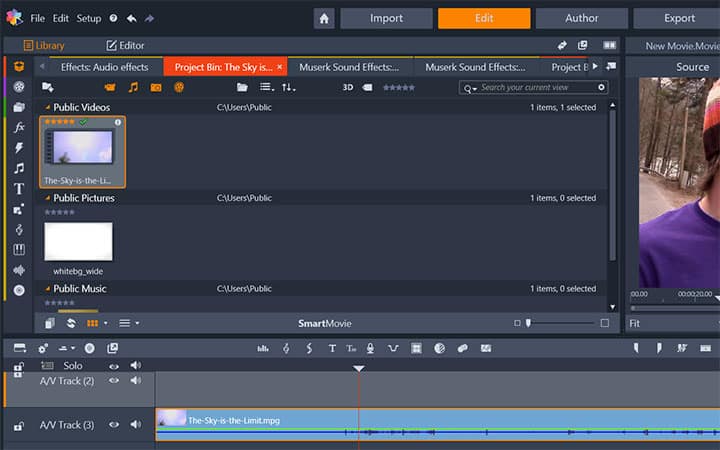 3. Open the Voice Over Tool
Before you can record audio using the Voice Over tool, you will need to connect a microphone to the input jack of your PC sound board. Review the video scenes in your movie and decide where you want the voice-over to begin and end. When you are ready, open the Voice Over tool.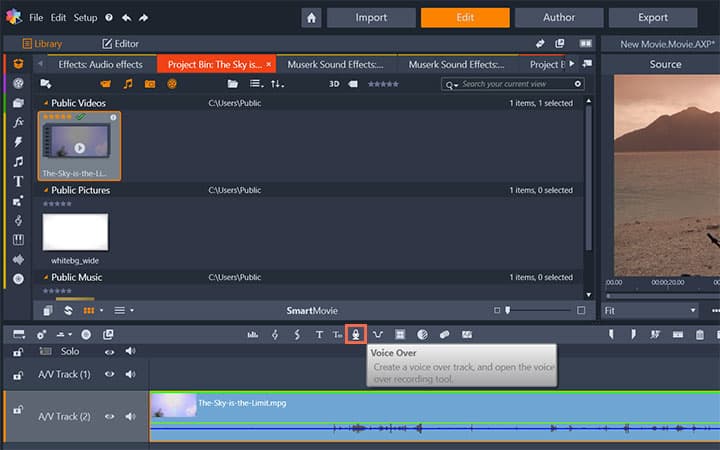 4. Click on the Rec Button
Position the microphone for use and try speaking a test phrase to check your recording level. When you are satisfied, click the Rec button (which toggles to a Stop button during recording).
5. Add Voice-over
A three-second countdown is displayed, then your movie begins to run in the Player. Perform your narration, and click the Stop button when done. Now you will be asked if you want to keep the recording. If you answer in the affirmative, the voice-over clip will be added to your Library and will also be placed automatically on the voice-over track on the timeline.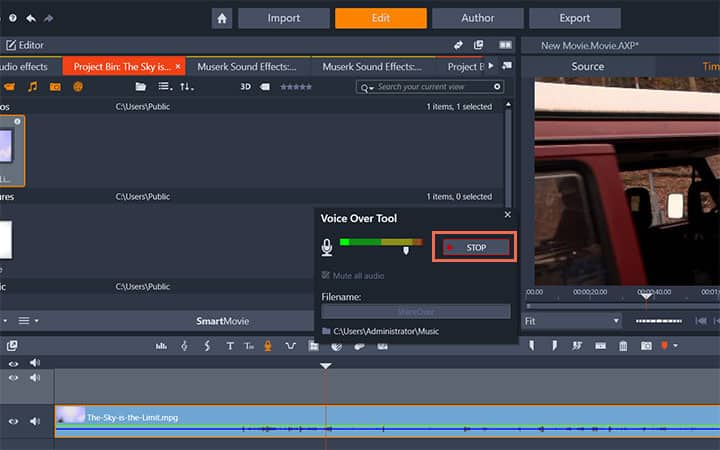 Get the best software for adding voiceover to video out there
Want to add voiceover to your video? Pinnacle Studios powerful video editing features allow you to add voice over to your tutorial, training video, and more with ease. Click below to download your free 30-day trial and give Pinnacle Studio a try now!