Make A YouTube Video
How To Make A YouTube Video
YouTube is the primary destination for video content online. It's a thriving community of filmmakers, both professional and hobbyists. Get a slice of the action by creating your own videos for YouTube. Pinnacle Studio is set up to let you export videos directly to YouTube, with all the required settings wrapped neatly into a single package.
1. Install Pinnacle Studio
To install Pinnacle Studio video editing software on your PC, download and run the installation file above. Continue following on-screen instructions to complete the setup process.
2. Launch a Movie Project
The first step in any video making session is to start or open a movie project.
To launch a new production: Choose File > New > Movie from the main menu. Before adding your first clip, make sure that the timeline video format will be right for the project.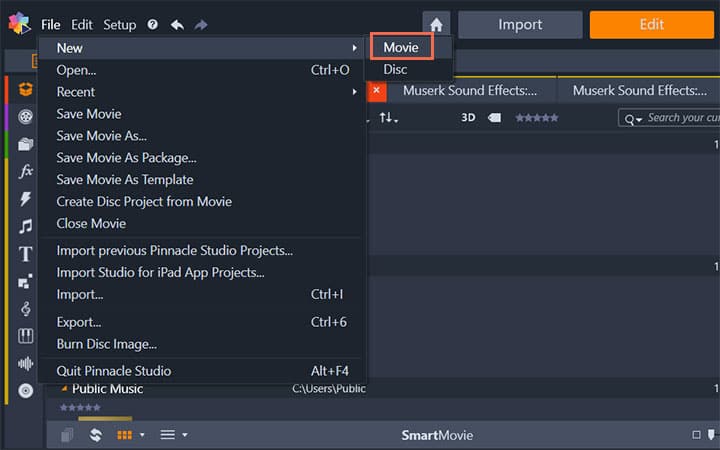 3. Adding clips to the timeline
Most types of Library asset can be brought onto the timeline as independent clips. The types include video and audio clips, photos, graphics, ScoreFitter songs, templates and titles. You can even add your other movie projects as container clips that work just like video clips in your project. Disc projects, however, cannot be added as container clips to a timeline, since they require a capability – user interactivity – that timeline clips don't have.
Note: Drag-and-drop is the commonest and usually the most convenient method of adding material to a project. Click any asset in the Library panel and drag it wherever you like on the timeline.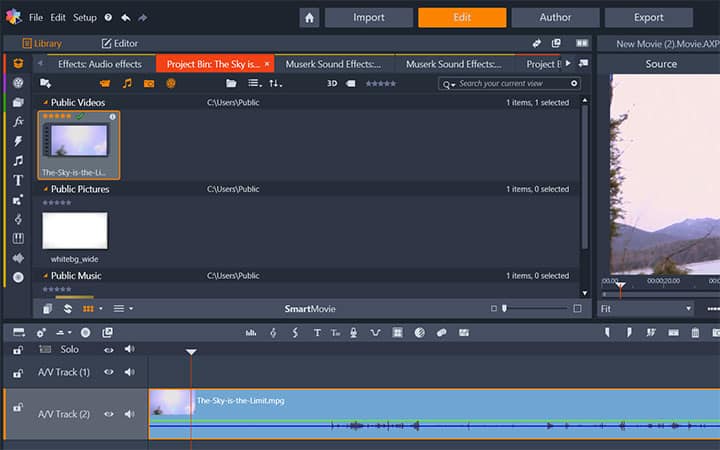 4. Edit Video
Once your assets are on the timeline, you can review and trim your video clips, position your media how you want it and more. To open a trim point, place the Timeline scrubber near the cut to be trimmed and click the Trim mode button. Click it again to close trim mode.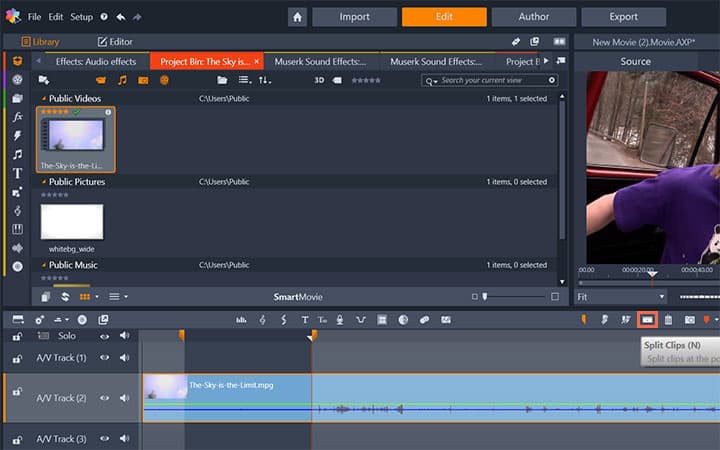 5. Add Titles
Click the Create Title button to open the Title Editor. Add the text under Text Settings. Adjust fonts, font sizes and styles from there. You can also change Look Settings, Background Settings and Stereoscopic Settings.
Also, you can Switch to Motions to modify text justification and flow.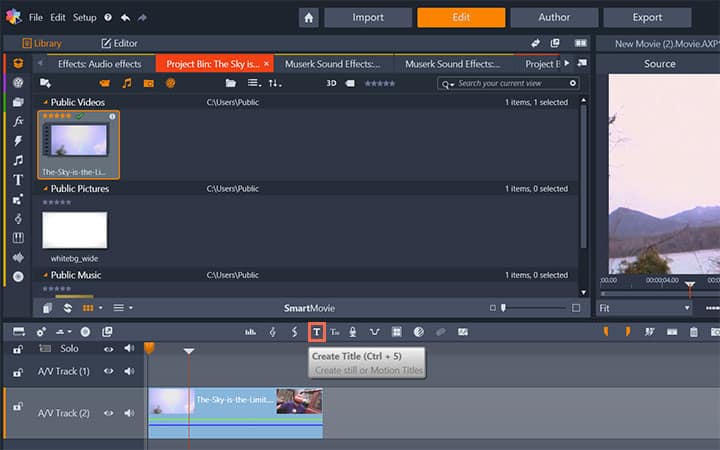 6. Add Effects
You can choose from a wide range of effects by clicking the Effects button. Just select a effect from the categories and it will be applied on the media of the timeline.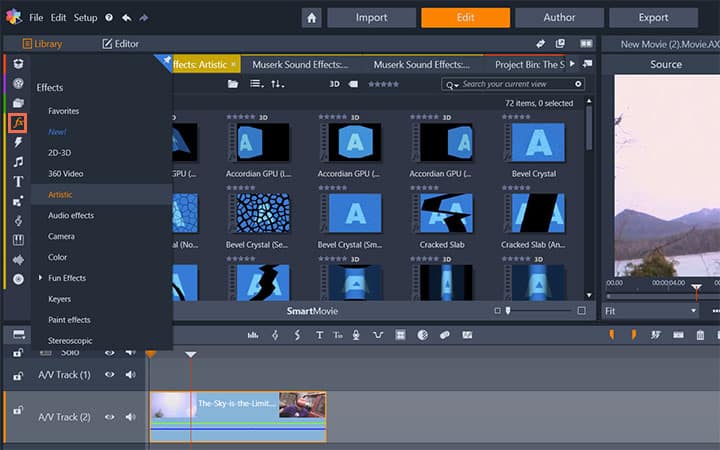 7. Add Transitions
Go to Editor > Transition In or Editor > Transition Out to access the transitions. When you find the one you want, drag it onto one end or the other of the timeline clip.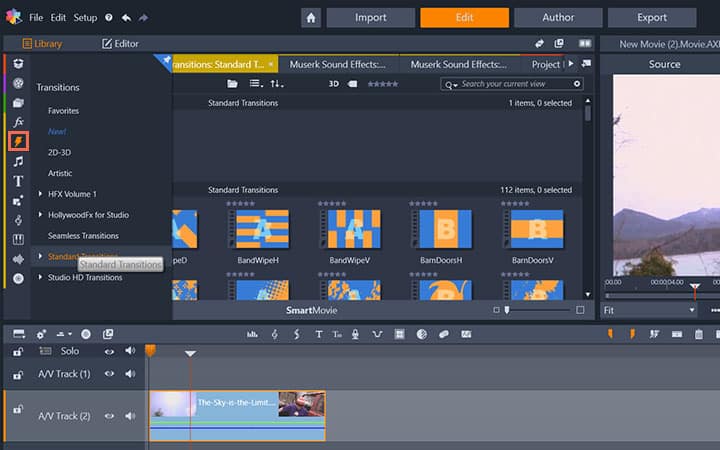 8. Add Music
Click the Create Song (Ctrl+7) button to open ScoreFitter. In ScoreFitter, choose a category, song and version from the lists provided. Enter a name for the clip in the Name field and adjust its duration with the Duration counter, if desired. When you have made your choice, click the Add to Movie button.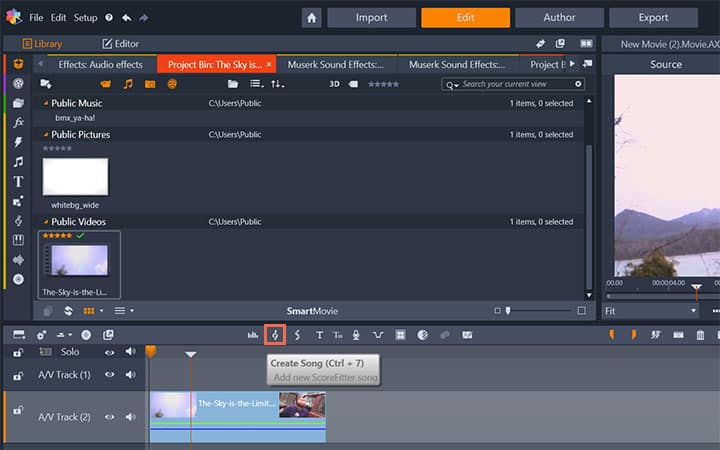 9. Finalize and Export
When you have finished editing your project, open the Exporter by pressing the Export tab at the top of the screen. With a few clicks you can tell the Exporter everything it needs to know to output your video in the format that best fits to upload on YouTube.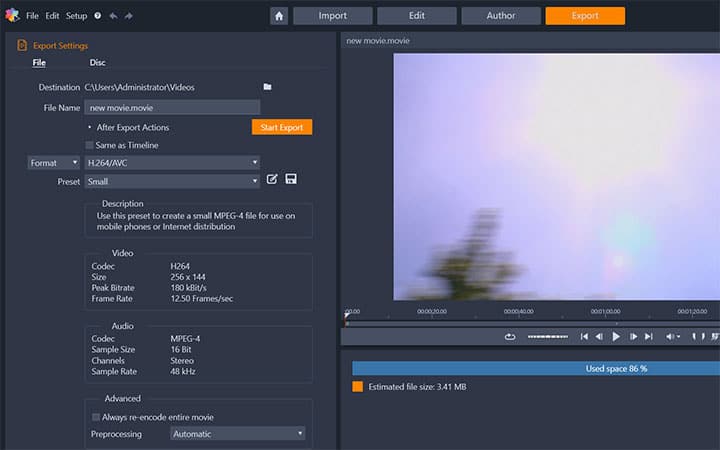 Get the best software for making YouTube videos that there is
Looking to make a YouTube video? Pinnacle Studios powerful video editing features allow you to create awesome videos and optimize them for upload to YouTube. Click below to download your free 30-day trial and give Pinnacle Studio a try now!